Weekly Class – Infinity Yoga
Currently I am teaching ON LINE – Tuesdays from 6:00 to 7:15 pm 
Drawing on traditions rooted in Kundalini, Hatha, Reiki & Mindfulness, we start from our foundation; for stability and grounding & then move deeper in toward infinity; for insight and openness. The journey leaves you with an open heart & a stronger connection with yourself & all of life.
To preregister or more information email me at anitajmitra@gmail.com
 Hope to see you on the mat.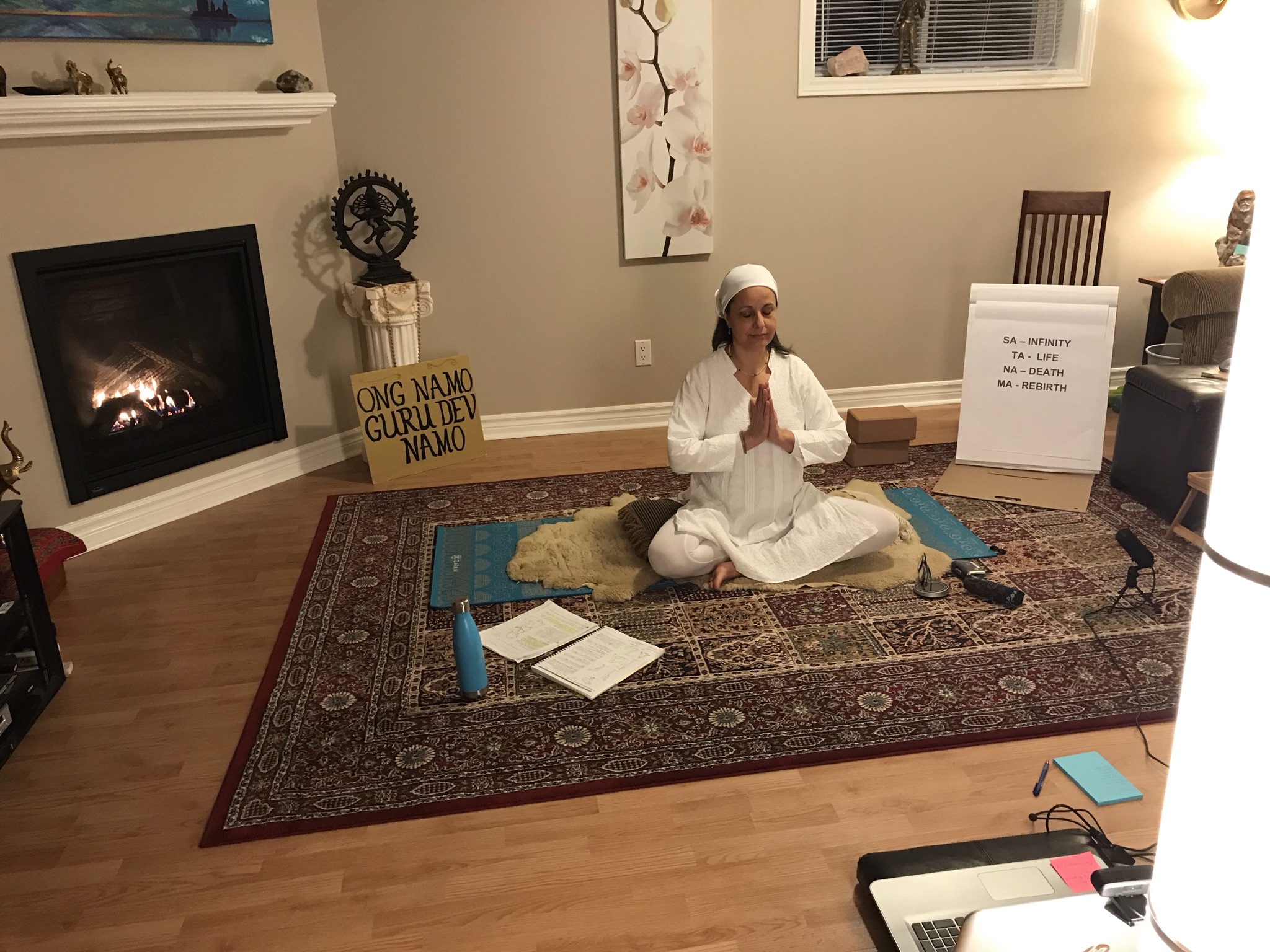 Workshop List
Here is a sample of the types of workshops I offer for both adults and teens. Each of the workshop begins with Kundalini Yoga, setting the stage for clarity, truthfulness, and emotional balance. Workshops can run for a minimum of 2 hours or be part of ongoing weekly/monthly course. All workshops involve creating individually and collectively, as well as journaling. To inquire about any of my classes contact me.
Yoga and Art (2 – 2.5 hours minimum)

The workshop begins with Kundalini Yoga then move into an art practice. The workshop ends with gallery walk and debriefing in partners and/or as a group.

Possible themes to Explore

Creating an image of your true self– Working first individually and then collectively on an art work – (pastel and crayon) – the workshop also utilizes poetry
Chakra Creations– Creating a Visual Journal of the Chakras (drawing/paint media)
Rhythms of Life – draw or paint the 5 Rhythms of Life (Note: this can be blended with a Yoga Dance workshop)
Clay Creations – Participants are guided through limiting beliefs about self and the potential of self to the creation of personal and group are piece
Inner wisdom Mixed Media project – Participants explore underlying lessons learned through the stages of life and create a mixed media art work
Gift to Self– Participants work in a variety of media over the course of a weekend or 7- week course (2 hour sessions) – the art work created is like an evolving visual narrative that culminates in a three dimensional art gift to the self.
The Radiant Self – Participants work with painting media creating images of Infinity, Abundance, Compassion and Strength – The work produced is either done individually or collectively.
Yoga Dance (2 hrs minimum)

Meditation in Motion – Explore the Rhythms of Life as taught by Gabrielle Roth
We explore 5 stages of meditative movement through visualization, journaling, and guided self expressive movement
We end with deep relaxation and debriefing in partners and as a group.
Extension: Explore the Rhythms through various art medium.

Possible themes to Explore

The Cycles of Life (Birth to Death)
The Season of Change (Spring or Fall workshop)
Emotion Cycle (From fear to Bliss)
The Radiant Self (Strength, Compassion, Abundance, Divinity)
Drama for Change (2 hrs minimum)

Building Peace – Using the language of theatre – Image Theatre & Forum Theatre

This playful and team building drama workshop, we explore various social issues and the potential for positive change, in terms of personal perspectives, bias and conditioning.
The Arts Mindful Classroom (2hrs to a full weekend)

Training for school teachers and students about how the brain works, What is mindfulness and practices that can be integrated into the classroom particularly through the arts.
Participants practice mindfulness techniques and through the use of Arts practices